Last week, Pittsburgh's East Liberty neighborhood helped Comcast celebrate the opening of the newest Xfinity Store in the Pittsburgh region. The new store is located at 5880 Baum Boulevard in the Cube Creative Space and is the latest opening in a six-month expansion that will result in nine new Xfinity Stores in the area.
Comcast presented Joann Monroe, Executive Director of Garfield Jubilee Association, with a $1,000 check, in recognition of their housing counseling, housing development and workforce development work in Pittsburgh's East End.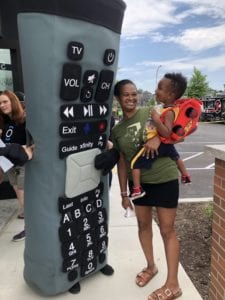 Comcast opened its Washington Xfinity store in 2016, followed by stores in McCandless, Upper St. Clair, North Fayette, Greensburg, Monroeville and Fox Chapel. Later this year, the company will open stores in Bridgeville, Homestead, Irwin, Beaver Falls and two additional locations still being finalized.
Xfinity Stores range in size up to 4,000 square feet and are located in shopping destinations already familiar to local customers. In addition to receiving product demonstrations, customers can simply ask our experts about their current services or devices, learn how Xfinity apps make it easy to manage their account, sign up for all Xfinity services, pay bills at kiosks, return or acquire equipment and purchase accessories like Bluetooth speakers, headphones or mobile phone cases. Customers can also go online to www.xfinity.com/support, click "Visit an Xfinity Store" and make an appointment.