Second Xfinity Store Opens in West Virginia as Part of Investment to Increase Number of Convenient Retail Locations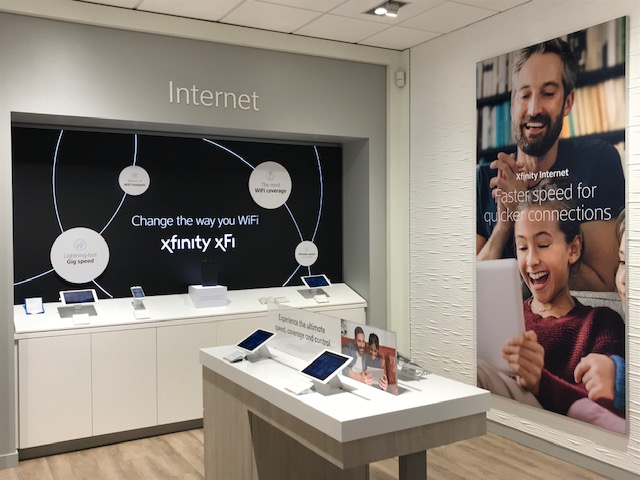 TRIADELPHIA, W.Va. – August 16, 2019 – Comcast today opened a new Xfinity Store near Wheeling, the latest opening in a six-month expansion that will result in ten new Xfinity Stores in the Ohio Valley. This investment will give customers more convenient access to see and experience Xfinity's suite of products or interact with store staff. The new store is located at The Highlands at 215 Cabela Drive in Triadelphia.
"Our continued expansion into West Virginia is an important part of our ongoing effort to improve the customer experience," said Keystone Region Senior Vice President Christine Whitaker. "We've moved to more expansive, thoughtfully-designed stores where employees can demonstrate the unmatched video experiences on our X1 platform; how Xfinity xFi uses the fastest internet speeds and AI-powered security to transform the home WiFi experience; a growing network of Xfinity Home smart home devices and services; and the advantages inherent in Xfinity Mobile."
Comcast's Keystone Region, which stretches across most of Pennsylvania and includes portions of eastern Ohio, northern West Virginia and the Maryland panhandle, will also be adding new Xfinity Stores in the Pittsburgh region and Lancaster by this fall to effectively double the number of stores available to its customers. Outside of the Ohio Valley, Xfinity Stores already operate in Harrisburg, York, Reading, Morgantown, Dickson City, Williamsport, Chambersburg and Lancaster, which will relocate to a new site.
Xfinity Stores range in size up to 4,000 square feet and are located in shopping destinations already familiar to local customers. In addition to receiving product demonstrations, customers can simply ask our experts about their current services or devices, learn how Xfinity apps make it easy to manage their account, sign up for all Xfinity services, pay bills at kiosks, return or acquire equipment and purchase accessories like Bluetooth speakers, headphones or mobile phone cases. Customers can also go online to www.xfinity.com/support, click "Visit an Xfinity Store" and make an appointment.