At Comcast, we are always looking for new ways to reduce our environmental impact. Often, one employee's new idea can be just the perspective we need to improve processes and make an impact.
Tammy Jumper, a Senior Environmental Health and Safety Specialist, does routine waste checks at all local warehouses throughout Comcast's Keystone Region. During waste check visits, she learned that unused Self Installation Kits (SIK) items like cords, cables, adapters and other materials pile up in technicians' vans, and are then put into the recycling stream, so she began looking for ways for these new SIK components to be reused.
Tammy partnered with Brian McMorrow, Director of Warehouse & Materials, and Donald Sowers, Warehouse Manager, on a solution. Together, they reached out to the SIK vendor, CTDI, to see if unused items and undamaged boxes could be reused in new kits.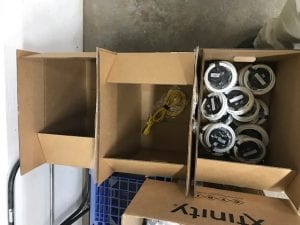 CTDI was open to the idea and helped define what could be reused: Items had to be unused, unopened and undamaged; cardboard boxes could be reused until they became damaged. Once CTDI received these approved items back, they would use them to stock other SIKs before buying new materials.
Tammy selected four warehouse locations in Keystone to pilot the return of unused SIK items and undamaged boxes. She set-up bi-weekly communications with the locations to understand how the program would affect them and work out the details, including education to technicians and warehouse colleagues. New SIK return boxes were set up along with instructions for how to sort and return these items.
"I am proud to be part of our company's sustainability efforts because it's helping to improve the communities that we live and work in and build a better future for the next generations," said Jumper. "I hope that this program gets people thinking, 'what other items could be reused?"
During the 90-day pilot, more than 2,500 items were returned to be reused in other SIKs from the four locations. Due to its immediate success, the program has been rolled out to all remaining warehouses and stores in the Keystone region, with the rest of Comcast's Northeast Division to follow. Not only does the program help our environment by reducing waste, it offers a cost savings to the company.
Learn more about Comcast's local sustainability projects here.