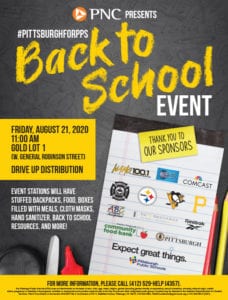 While "back-to-school" will look very different for students this year, the Pittsburgh Public Schools Back to School Event will help local students prepare for whatever comes their way. Comcast is proud to sponsor the fair on August 21 at Gold Lot 1A near Heinz Field and PNC Park.
This year's drive-through event will allow families to pick up pre-stuffed book bags, food boxes, sanitizers and cloth masks. Information about Comcast's Internet Essentials program will be included with each book bag.
"We're proud to support Pittsburgh Public Schools families," said Beth Crow, Comcast's Director of Community Impact. "This year more than ever, we want to make sure that families have access to what may be a child's most important school supply: high-speed internet service at home."
Internet Essentials from Comcast is the nation's largest and most comprehensive broadband adoption program for low-income Americans and provides internet service for $9.95 a month for qualified households in Comcast's service footprint, plus the option to purchase a low-cost Internet-ready computer and multiple options to access free digital skills training. In response to the COVID-19 pandemic, Comcast is offering the first 2 months, or 60 days, of service for free to new Internet Essentials customers who sign up through the end of the year.
Other partners participating in the resource fair are PNC Bank, Pittsburgh Steelers, Pittsburgh Pirates, 412 Food Rescue, Reebok, Pittsburgh Police, Education Partnership, WAMO and others.
For more information on Internet Essentials, visit www.InternetEssentials.com.