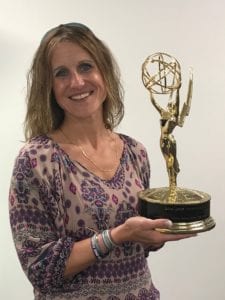 Comcast takes great pride in offering its customers a variety of ways to stay connected and entertained inside and outside the home, bringing them more of what they want and how they want it in a rapidly evolving industry. To do this, we have to invest in and innovate on our products, deliver a great experience to customers and ensure that our own employees can keep pace with an ever-changing technological landscape.
Here in our Keystone Region, that's just one of many reasons senior manager of product marketing Johnyne Hoyes is so valuable.
As our engineering teams continue to deliver new products and add functionality to existing ones, our teams – from marketing to sales to customer service and technicians – must understand how the services are delivered and how they interact with other Xfinity products. Then they must be prepared to explain this to customers so they have all the facts about what choices they have. That's where Johnyne, a 13-year employee, shines.
"I take great pride in serving as a primary point of contact for internal teams for all matters concerning products," Johnyne says. "I work with teammates from both our corporate headquarters and our Northeast Division headquarters to ensure that our regional teams are moving together to launch new products and existing product improvements so together we can deliver an excellent customer experience."
So when an employee interacts with a friend or neighbor who has questions about how xFi can improve their WiFi experience and add security, or what advantages Xfinity Mobile gives them or how to stream using our Xfinity Stream app, that employee can answer not only because they understand the product but also how it's evolved to meet customer needs.
Prior to the pandemic, that involved Johnyne routinely driving across the breadth of our Keystone Region, which spans from Morgantown, WV and Steubenville, OH to Williamsport, Scranton, Gettysburg and Lancaster, PA for the in-person meetings that really make those working relationships possible.
Given all the employees with whom she works and regional leaders' recognition of her importance in relaying all the nuances of Xfinity's expanding product profile, it's no surprise Johnyne has been nominated for or received many internal honors for her work as a customer experience champion and a passionate promoter of our brand.
Like so many Keystone region employees, Johnyne is also active in our Employee Resource Groups as a member of both the Women's Network and the Young Professionals Network, and active in the community. She has participated in the Bike MS: City to Shore Century ride for the last seven years and has raised nearly $10,000 for Multiple Sclerosis Research and Assistance programs.
She relishes her family time and supports her daughter in gymnastics and her son in soccer while also setting an example for her active family as a certified spin instructor who teaches spin, barre and circuit classes at a local fitness facility. In other words, she's always moving – at home or on the job.
"Comcast is an amazing company to work for," Johnyne says. "I love that I get to interact with just about every department in the Keystone Region. I love building relationships as we collaborate on projects, drive product fluency and move the business forward."