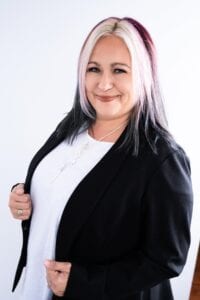 When you work in video production, sometimes you need to be creative to get the perfect shot. That's how Jessica Kendlick's then two-year-old son was used as a prop "football" by Pittsburgh Steelers Ben Rothlisberger and Ike Taylor for a commercial series Kendlick shot to promote Comcast's offering of exclusive Steelers Video On Demand content on X1 in 2007.
As Senior Manager of Digital Media Services for Comcast's Northeast Division, Kendlick leads a team of production professionals across seven states in the northeastern United States. She started her Comcast career 18 years ago to manage local marketing campaigns and sponsorships. Her role has evolved over time to include managing Comcast's Xfinity retail marketing team in Pittsburgh as well as a large event marketing team.
"Throughout the years I have had the pleasure of watching children and adults react on-camera to how Comcast has helped them transform their lives with our products, services, and initiatives," said Kendlick. "I have been blessed to see first-hand how Comcast impacts our local communities."
Those experiences have ranged from producing "Comcast High School Football" for 13 years to launching coverage of Pennsylvania girls basketball championship games in 2008. Her career has also taken her behind the scenes at the Carnegie Museum of Natural History where she met paleontologists studying newly acquired fossil samples displayed in the "Dinosaurs in Their Time" exhibit.  She also worked backstage at the Pittsburgh Zoo & PPG Aquarium to interview the zookeepers creating the then-new polar bear exhibit and shot the installation of the Tropical Forest Conservatory and Chihuly exhibits at Phipps Conservatory and Botanical Gardens.
One of her favorite shoots remains a Comcast Newsmakers episode in 2018, shot at the Underground Railroad Museum in Belmont, Ohio. "While on set we had the opportunity to interview the museum's founder, the late Dr. John Mattox," said Kendlick. "Meeting Dr. Mattox, learning about his life and discussing with him the history and importance of the Underground Railroad in the Ohio Valley was truly one of the highlights of my career."
She's also proud of how her team has adapted and transformed their work since March of 2020. When the pandemic forced most of Comcast's employees to work remotely Kendlick's team shifted from in-person productions and large meetings and webcasts to all virtual production, pushing the Microsoft Teams platform to the very edge of what it was designed to do. "We're working harder than ever, helping Comcast leadership to communicate effectively to a workforce dealing with change," said Kendlick. "Our employee resource groups have created engaging video content that helps showcase the work they're doing virtually in our communities while also keeping coworkers connected."
During Kendlick's 18 years at Comcast, she's experienced the company's genuine evolution towards being better. "Better products, better customer experience, better culture, better people. The environment is constantly changing, but steady in its movement towards the singular goal of being the best." Learn more about careers at Comcast here.