A program that encourages any Comcast employee to note the location of old and tattered American flags that are flying anywhere in our footprint and request a replacement has spread to Comcast's Keystone Region after it was successfully launched recently in the Philadelphia area.
The flag replacement program is led by our employees who participate in the Veterans Network Employee Resource Group (ERG) known as VetNet. Our VetNet ERG participants are military veterans, active participants in the Reserves or family and other supporters of the military community.
Flags are replaced for local residents, nonprofits and small businesses, regardless of whether they are Comcast customers. In addition, the old flags are retired at local VFWs in accordance with flag retirement protocols.
Since the program launched in late May, VetNet has replaced 15 American flags in Comcast's Keystone Region, which includes western and central Pennsylvania as well as parts of eastern Ohio, northern West Virginia and Maryland. The effort kicked off locally on Memorial Day with the replacement of several military and state flags and a flag retirement ceremony, featuring Boy Scouts, at the Leetsdale VFW.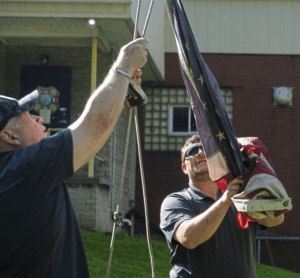 How does the flag replacement program work?
The program is available throughout Comcast's Keystone Region. Our local workforce – especially our team of technicians – is regularly out and about in the communities we serve. If an employee notices a worn out flag at a home or business, he or she shares the location with the VetNet team, who then contacts the individual or business to determine their interest in replacing the flag.
Our employees take pride in participating in this active effort in their communities and neighborhoods. The program is especially meaningful to our employees who have served our country. "Comcast's flag replacement program is a great way to engage with the communities we serve," said Greg Wagner, Senior Manager of Installation and Service and Co-Lead for Comcast's VetNet Employee Resource Group. "We've replaced 15 flags in two weeks and all the recipients are extremely thankful."
We are proud of our company-wide commitment to the military, and how our employees embody this commitment year-round. To learn more about Comcast's support of the military, click here.