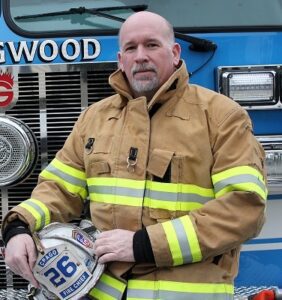 If Lloyd looks familiar, it may be because you've seen him in one of the dozens of movies, television shows or commercials he's worked in as an extra. Or you may have seen him respond to an emergency call in Youngwood, Pennsylvania, where he's served as chief of the volunteer fire department for 36 years. Meanwhile, his top occupation is interacting with Comcast's customers throughout Westmoreland County as Installation and Service Manager for Comcast's Keystone Region. 
Since 2013, Lloyd has spent weekends and holidays working as an extra in productions shot in western Pennsylvania, including A Beautiful Day in the Neighborhood, Banshee, Mindhunter, Sweet Girl, Gone, Southpaw, Those Who Kill and Love the Coopers. His parts, which have included a correction officer, an inmate, a party goer and a surgeon, have given him the opportunity to work with a variety of actors, including Jake Gyllenhaal, Rachel McAdams, Curtis Jackson, and Jane Fonda.  
While he's played a police officer several times, in real life he serves the Youngwood community as their fire chief, first elected as Westmoreland County's youngest chief when he was 21. 
"One of the most important things you learn as a firefighter is how important training is," said Lloyd.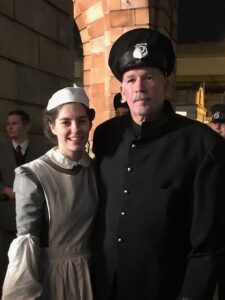 "Over the years, I've worked with numerous assistant chiefs and lieutenants who have come and gone because life happens, but solid, consistent training means that no matter who responds to a call, we've all trained for that moment." With the fire company responsible for calls along a ten-mile stretch of the Pennsylvania Turnpike, training plays a critical role for the Youngwood Fire Department's volunteers.  
Consistent training has also helped Lloyd develop a successful 35-year career with Comcast. "The technology we used when I started as an installer in 1987 has changed dramatically," said Lloyd. "Today, our fiber network brings our customers the content they want through the xFi Gateway's powerful, secure connection."  
Throughout Lloyd's career, he's had the opportunity to work in each of Comcast's technical operations roles, including installation, service, maintenance and construction. He's worked as a manager for 15 years, supporting supervisors whose teams tackle the daily challenges that installers encounter in the field, helping them deliver the best customer experience for Xfinity internet, tv and streaming and Xfinity Home customers throughout Westmoreland County and Grantsville, Maryland. In addition to continuous product training, Lloyd's team often can test new products before they're available to customers, including the new Xfinity Video Doorbell.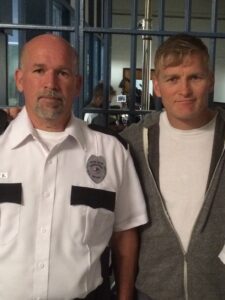 In addition to Lloyd's career and community activities, he and his wife are grandparents to three grandchildren and one on the way. He's also served on Youngwood Borough Council since 1998. "Because of my busy schedule, my favorite Xfinity product is the cloud DVR," said Lloyd. "But I'm constantly telling people to visit an Xfinity Store to learn more about Xfinity Mobile and the cost savings and flexibility it offers."  
Great products are just one reason Lloyd loves working for Comcast. "The people, products and support we offer employees are what make Comcast a great place to work."  
Learn more about careers at Comcast and apply for positions here.