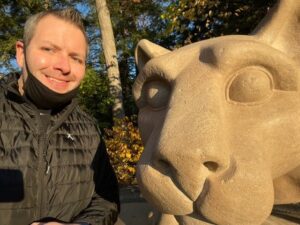 As an undergraduate, Ryan worked as a Mansfield University radio station DJ where he learned how important it is to have a variety of entertainment choices. "The first hour of my show was dedicated to hip-hop and the second hour was all about hard rock and heavy metal," said Ryan. Today, Ryan loves being able to offer Xfinity customers curated content through the X1 platform – an entertainment experience that brings live TV, sports, streaming, and music together. 
Ryan gets to see customers experience X1 firsthand every day in his role as an Xfinity Store market manager. His Comcast career journey started in 2019 as an assistant store manager in Williamsport and he was soon promoted to manager of the State College Xfinity Store. Today, Ryan is responsible for Xfinity Stores throughout western Pennsylvania and West Virginia, including locations in Morgantown, Triadelphia, West Homestead, Upper St. Clair, North Fayette and Washington. In his role, he provides product training to retail employees so that they can deliver an exceptional experience to customers who want to learn about the Xfinity suite of products, including high-speed internet, streaming, voice and home products.  
His favorite Xfinity product? "It's hard to choose. Xfinity Internet and Xfinity Mobile keep my wife and I connected to our friends and family but I'm also a big sports fan, so being able to bookmark my favorite baseball, football, hockey and basketball teams in the Xfinity Sports app is one of my favorite features on the X1 platform." 
Ryan's career with Comcast has given him the opportunity to positively impact both customers' and his teammates' lives. "Our products help connect our customers to what's important. My team and I give 110% to everything we do and hope this shows in how we help our customers choose the best products to make those connections that matter most."  
 Click here to find the nearest Xfinity Store where customers can experience Xfinity's suite of products.  
 Learn more about careers at Comcast and apply for positions here.