At Comcast, we have been committed to creating and supporting digital equity within the communities we serve for more than 10 years. And as part of Project UP, our comprehensive initiative to advance digital equity and help build a future of unlimited possibilities, we recently hosted a digital equity dialogue at the Pittsburgh Technology Council offices. Broderick Johnson, Comcast's Executive Vice President, Public Policy & Executive Vice President, Digital Equity and Alka Patel, Vice President of Government & Regulatory Affairs for Comcast's Keystone Region had the opportunity to learn and share with existing Pittsburgh Comcast partners as well as the Greater Pittsburgh Digital Inclusion Alliance about our joint efforts to close the digital divide.
In particular, this summer, Comcast released a report from the Boston Consulting Group titled A Human Approach to Closing the Digital Divide, which was the basis for the conversation.
"Last year, Comcast made a commitment to invest $1 billion over the next 10 years to help further close the digital divide," said Broderick. "Our collaboration with community partners like those in Pittsburgh has been critical in connecting millions of people to the power of the Internet at home."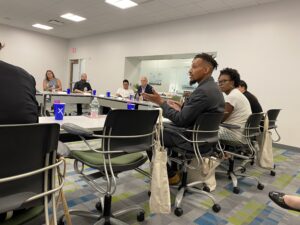 Broderick works closely with our partners in government and other stakeholders to support our shared goal of connecting as many Americans as possible to the Internet, and to shape our corporate policies that allow our business to continue to innovate.
"During our listening session in Pittsburgh, trusted local partners shared creative ways to achieve our shared digital equity goals," said Alka. "These organizations work throughout western Pennsylvania to help people overcome barriers to connectivity in order to improve their daily lives and create work and educational opportunities."
Some of the community partners in attendance included Allies for Children, Pittsburgh Technology Council, Apprenti PGH, Computer Reach, the Greater Pittsburgh Digital Inclusion Alliance, Neighborhood Allies, Per Scholas, Literacy Pittsburgh, the Institute for Entrepreneurial Excellence at the University of Pittsburgh and the Veterans Leadership Program. Locally, Alka and her team work with these organizations and other government and community partners on the ground every day to create opportunities to educate and break the barriers to adoption.
Comcast's investment in Pittsburgh has increased access to reliable high-speed Internet while providing thousands of underserved families with affordable and free options for broadband adoption. Since 2011, Comcast's Internet Essentials – the nation's largest and most comprehensive broadband adoption program – has connected more than 200,000 Allegheny County students, parents, veterans and senior citizens to low-cost, high-speed Internet at home.
In addition to Internet Essentials, Comcast is focused on raising awareness about the federal government's Affordable Connectivity Program (ACP), which provides eligible households with a credit of up to $30/month toward their Internet and/or mobile service ($75/month on qualifying Tribal lands). The credit can be applied to any tier of Xfinity Internet service along with mobile service through Xfinity Mobile. Eligible customers can get home Internet service at no cost with Internet Essentials or Internet Essential Plus once their ACP credit is applied.
Comcast has also launched 37 WiFi-connected Lift Zones in Allegheny County, which provide free, high-speed WiFi to help connect local students, families, and community members to the Internet so they can fully participate in educational opportunities and the digital economy. Two of the session's participants host Lift Zones at their organizations: Computer Reach and the Veterans Leadership Program.
For additional information on Project UP and our other digital equity initiatives, including Internet Essentials, Lift Zones and more, visit https://corporate.comcast.com/impact/project-up.