Now that Labor Day is behind us, students and parents throughout Pennsylvania, Ohio, West Virginia and Maryland are focused on the start of a new school year. And with so much of life and learning happening online, we know it is important that families have access to the Internet. Fortunately, there are more ways to connect than ever before.
As part of Project UP, Comcast's comprehensive initiative to advance digital equity and help build a future of unlimited possibilities, here are some of the ways families might be able to connect at little to no cost for back-to-school season and beyond:
Affordable Connectivity Program (ACP)
What is it? The Affordable Connectivity Program (ACP) is the federal program funded by the Federal Communications Commission (FCC) designed to help qualifying low-income households connect to the Internet. Comcast is proud to participate in the program, with new ACP-focused offers that give customers choices to take full advantage of the federal benefit.
What does it offer? A $30 credit per month from the federal government ($75 per month for qualifying households on Tribal lands) toward Internet and/or mobile services. This can be combined with offers from Comcast's Internet Essentials, Internet Essentials Plus and/or Xfinity Mobile to provide eligible residents with discounted or free services after the discount is applied.
Where can I learn more? For more information about ACP and to see if you qualify, visit us online or at one of our Xfinity Stores, including Ross Township, Pleasant Hills, Indiana and Irwin, where you can speak to an Xfinity Expert, like Ryan and Jennifer.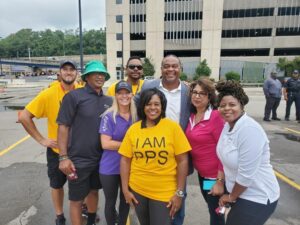 Internet Essentials from Comcast
What is it? Internet Essentials is the nation's largest and most comprehensive broadband adoption program, launched in 2011. Over the last 10 years, Comcast has connected over 10 million people from low-income families to low-cost, high-speed Internet at home, including 112,000 in Pittsburgh. And to provide more options for our Internet Essentials customers, we recently introduced a new, faster tier of home Internet service that would be fully covered by the ACP credit but also offer twice the download speed of up to 100 Mbps (10 MBPs upload) of our original Internet Essentials service.
What does it offer? At $9.95/month and $29.95/month respectively, Internet Essentials and Internet Essentials Plus provide broadband service to eligible customers at low cost and even no cost when combined with the ACP credit. Eligible customers can also use their ACP credit to add a line of unlimited 5G cellular data ($45) through Xfinity Mobile to their home Internet service for as little as $24.95/month after the ACP benefit is applied.
Where can I learn more? To learn more about Internet Essentials and see if you qualify, visit us online or at one of our Xfinity Stores.
Lift Zones
What are they? Lift Zones are designed to complement our Internet Essentials program and help connect students, families and community members to the Internet so they can fully participate in educational opportunities and the digital economy. Comcast has installed over 1,000 WiFi-connected "Lift Zones" in community centers across the country – 102 of those right here in the Keystone Region, including The Allegheny County Housing Authority properties, Gwen's Girls and Boys and Girls Clubs of Western Pennsylvania.
What do they offer? Working with our network of nonprofit partners and city leaders, Lift Zones provide a free, high-speed WiFi solution in spaces like nonprofits, community centers, gyms, parks and recreation facilities and even small businesses. These locations offer not only free Internet connectivity, but also access to hundreds of hours of educational and digital skills content to help families and site coordinators navigate online learning.
Where can I learn more? To find a Lift Zone near you, visit our online search tool.
Backed by a $1 billion commitment over the next 10 years to reach tens of millions of people, Project UP encompasses programs and community partnerships that connect people to the Internet, advance economic mobility, and open doors for the next generation of innovators, entrepreneurs, storytellers, and creators. To learn more about our commitment, visit https://corporate.comcast.com/impact/project-up. And read more about our local activities like a recent digital equity dialogue with Pittsburgh community partners on our blog.