It's fitting that Lance J., a Community Account Representative, is known for running from event to event to help students, senior citizens and parents learn about Xfinity Internet, Xfinity Mobile and about how they can qualify for a $30 a month credit toward the cost of Internet service: Lance and his fiancé are avid runners who love participating in local 5K races throughout Pittsburgh. "We're training for the FlyBy5K at the Pittsburgh International Airport and The Great Race in Pittsburgh now," he said.
Training is important in Lance's professional life as well. At Comcast, Lance has worked to become a subject matter expert on digital equity initiatives like Internet Essentials. In 2011, Comcast created Internet Essentials to bring affordable, high-speed Internet to low-income families – and in over 10 years, we've connected more than 10 million Americans, including 112,000 in Pittsburgh.  In 2021, we launched Internet Essentials Plus, a new tier of service that offers twice the download speed of traditional Internet Essentials, plus a cable modem and access to millions of WiFi hotspots.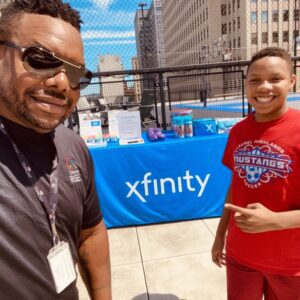 In addition to our own broadband adoption program, Comcast participates in the Affordable Connectivity Program (ACP), a federal program designed to help low-income households connect and stay connected to the Internet by providing an up to $30 subsidy to pay for Internet service.  Thanks to ACP, eligible Comcast customers can get their Internet and/or mobile service through Internet Essentials and Internet Essentials Plus at no cost once the federal credit is applied. Team members like Lance are helping to spread the news so even more eligible families in our area can benefit.
"The Affordable Connectivity Program removes cost as a barrier to broadband adoption and is a once-in-a-lifetime opportunity to get more families connected to the Internet," said Lance. "Customers who qualify can apply the monthly ACP credit to any tier of Xfinity Internet, including Internet Essentials.. That means, for many customers, they can connect to the things most important to them for free."
A native Pittsburgher, Lance has spent much of his career in wireless sales, joining Comcast's retail sales team in 2020. He quickly became fluent in the Xfinity suite of products, including Xfinity Internet, the Xfinity X1 platform, Xfinity Home smart home devices and services and Xfinity Mobile products and services. His deep product knowledge makes Lance a natural fit for his new role as a Community Account Representative, helping customers learn about the products and services that keep them connected to work, school, family and friends.
With a soccer-playing middle schooler, a sister at Indiana University of Pennsylvania and a retired mom who's busier than ever, Lance's close-knit family relies on Xfinity Home to provide security while they're on the road. "We travel a lot and being able to keep an eye on our home and our cat Kenya, is extremely important to us. Xfinity Home also provides peace of mind when we are home together. Because it's integrated with X1 TV, we can monitor what's happening outside from the comfort of our couch."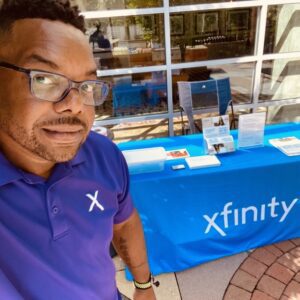 Lance not only positively impacts customers' lives every day, but he supports a great employee experience as a leader in Comcast's Young Professionals Network Employee Resource Group and as a peer leader. He was recently chosen by his coworkers to act as the liaison between his team and leadership to advise on important topics. "One of the things I love about my job is that I get the opportunity to spend time with employees across our footprint," said Lance. "I live closest to the Monroeville Xfinity Store, but I regularly visit our Xfinity Stores in East Liberty, Fox Chapel, West Homestead and North Fayette and see what a difference our products make in the lives of real customers."
Lance is part of our dedicated workforce at Comcast in Pittsburgh. To meet more of our local team members, read about  Mike, Lloyd, PJ and Ryan.
And for more on our comprehensive initiative to advance digital equity, backed by a $1 billion commitment to reach tens of millions of people, read about Project UP.