Recognizing our commitment to our communities throughout the area, the Pennsylvania Municipal League presented Comcast with its annual Community Partnership Award during a ceremony on October 7 held in conjunction with the association's Municipal Leadership Summit in Pittsburgh.
As the first Business Leaders Network member to receive the Community Partnership Award in 2010, this was the second time we have received this honor. Our ongoing partnership with the League has enabled member elected and appointed officials to learn more about our investment in technology, advanced Xfinity and Comcast Business services, community-focused initiatives and more, while also helping officials support local communities through platforms like Comcast Newsmakers.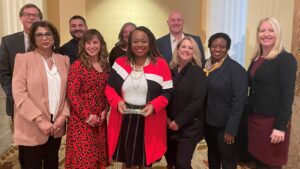 "Comcast has been a tremendous partner with The League as a founding member of the Business Leaders Network since 2010," said League Executive Director John Brenner. "Helping our member communities close the digital divide through programs like Internet Essentials and Comcast's participation in the Affordable Connectivity Program positively impacts young people and their families all over Pennsylvania."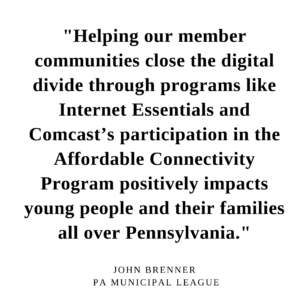 Internet Essentials – the nation's largest and most comprehensive Internet adoption program –  is a component of Project UP, our comprehensive initiative to advance digital equity and help build a future of unlimited possibilities. Backed by a $1 billion commitment to reach tens of millions of people, Project UP encompasses the programs and community partnerships across Comcast, NBCUniversal, and Sky that connect people to the Internet, advance economic mobility, and open doors for the next generation of innovators, entrepreneurs, storytellers, and creators. This also includes our support of the federal Affordable Connectivity Program (ACP), designed to help low-income households connect and stay connected to the Internet by providing an up to $30 credit to pay for Internet and/or mobile service, covering the full cost of both Internet Essentials and Internet Essentials Plus for eligible families.
League President Mayor Danene Sorace of Lancaster presented the Community Partnership Award to Alka Patel, Regional Vice President, Government & External Affairs and Jennifer Frees, Regional Senior Manager, Government & External Affairs, who accepted on behalf of the company.
"Comcast is honored to receive this recognition from the Pennsylvania Municipal League," said Patel. "We are proud to build on our history of making a difference in the Pennsylvania communities we serve and look forward to continuing our partnership with local elected officials and community partners across the commonwealth."
Toni Murphy, Vice President of Sales and Marketing for Comcast's Central Division, formerly Regional Vice President for our Keystone Region, welcomed attendees to the Awards Breakfast and described how Comcast supports employee volunteerism throughout the commonwealth in order to support the communities the League serves. "Our Team Up initiative makes it possible for employees to choose how to give back to the community of their choice at any time throughout the year," Murphy said of Comcast's emphasis on employees volunteering at the local level. "This could involve volunteering for specific community initiatives or joining local boards."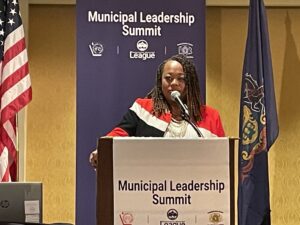 During the Summit, Patel facilitated a discussion titled "Digital Inclusion in Your Community" with Jennifer Blatz with the Greater Pittsburgh Digital Inclusion Alliance as well as a panel discussion on "Cybersecurity for the New Future" with Josh Hinkle from Splashwire and Leigh Balcom with M&T Bank.
The Summit took place days after our announcement that we have awarded a $90,000 grant and 50 laptops to Neighborhood Allies, a non-profit dedicated to making Pittsburgh neighborhoods equitable. The organization will use the grant and laptops to launch a digital inclusion initiative focused on broadband adoption, access to devices and educational skills-building tailored to the needs of individuals and small businesses.
For additional information on Project UP and our digital equity initiatives, visit https://corporate.comcast.com/impact/project-up.