In celebration of National Veterans & Military Families Month, Comcast awarded $75,000 in grants and 100 laptops to Veterans Leadership Program (VLP), a non-profit that assists veterans with housing, career development, wellness and supportive services. This announcement is part of Project UP, Comcast's 10-year, $1 billion commitment to advance digital equity through programs and community partnerships that connect people to the Internet, advance economic mobility, and open doors for the next generation of innovators, entrepreneurs, storytellers and creators.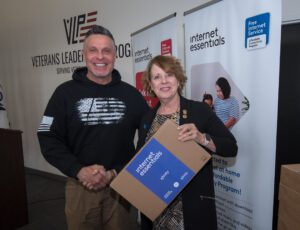 In addition to providing laptops directly to vulnerable veterans they serve in western Pennsylvania, the organization will use the grants and laptops to create a mobile computer bank to assist service coordinators who work with veterans living in shelters, inhabitable conditions or are street homeless and a rural computer bank to enable coordinators to reach areas where veterans have the greatest need. These computer banks will allow VLP to meet with veterans in Allegheny, Blair, Cambria, Centre, Elk, Fulton, Huntingdon, Jefferson and Somerset Counties, eliminating transportation barriers to complete intakes, provide referrals, help with housing searches and work together to complete job applications and other emergency assistance needs.
The laptops were presented to local veterans by Comcast's Senior Vice President of Military and Veterans' Affairs, Carol Eggert, and members of Comcast's local Veterans Network Employee Resource Group. "We're proud to partner with military community-serving organizations that are meeting the needs of veterans, servicemembers and military families," said Eggert. "Veterans Leadership Program is an important partner working to close the digital divide for western Pennsylvania veterans and their families."
"Comcast and VLP's work to close the digital divide for local veterans is important to the men and women who have served our country," said County Executive Rich Fitzgerald "The more we can do to remove barriers for people seeking training, employment, healthcare benefits and other resources they need to improve their lives, the better. We want all of our veterans to be able to connect and thank Comcast and VLP for recognizing this critical need."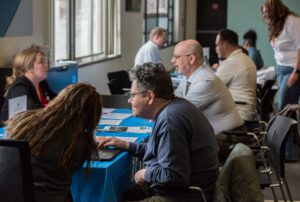 All veterans served by VLP are eligible for Comcast's Internet Essentials, the nation's largest and most comprehensive broadband adoption program. Since its inception in 2011, Comcast's Internet Essentials has connected more than 10 million low-income Americans to low-cost, high-speed Internet at home, with more than 225,200 of those individuals, including veterans, residing in the counties VLP serves.
Additionally, VLP clients may be eligible for the federal government's Affordable Connectivity Program (ACP), which provides eligible low-income households with a credit up to $30 per month toward their Internet and/or mobile service. Thanks to ACP, eligible Comcast customers can get home Internet through Comcast's Internet Essentials or Internet Essentials Plus at no cost once the federal credit is applied. Internet Essentials customers can also add a line of unlimited 5G cellular data ($45) through Xfinity Mobile for as little as $24.95/month after the ACP benefit is applied.
"There are more than 17,000 veterans in our service area living below the federal poverty threshold," said Ben Stahl, D.Sc., Chief Executive Officer of Veterans Leadership Program. "We're proud to partner with Comcast to provide computer and Internet access to veterans so they can apply for jobs, housing and assistance that will help them succeed."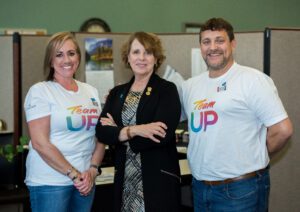 Comcast's 10-year-long partnership with VLP has included additional grants and laptop donations; installing a WiFi-connected Lift Zone at VLP's Pittsburgh location, which provides free, high-speed WiFi to community members; and hosting Comcast Newsmakers segments. Since 2015, more than 19,400 veterans, National Guard and reserve service members, and military spouses have been hired by Comcast with 8,299 members in the Veterans Employee Resource Group. ​Since 2011, Comcast has donated $197.5 million in cash and in-kind giving to military community serving organizations, while NBC has dedicated $9.5 million in-kind PSA time to military community serving organizations. In addition, 93 veteran-owned businesses are part of Comcast's Supplier Diversity Program.
In addition to Internet Essentials and Lift Zones, Comcast's Project UP includes Comcast RISE, a multi-year national initiative that supports small businesses owned by women or people of color in response to the economic impacts of the COVID-19 pandemic. Since 2021, Comcast RISE has awarded more than 30 small businesses in the region technology and marketing grants and recently awarded $1 million in investment grants to Allegheny County businesses. For additional information on Project UP and our digital equity initiatives, visit https://corporate.comcast.com/impact/project-up.