Area residents will soon have access to a special feature when they visit one of Comcast's 14 Xfinity Stores across western Pennsylvania — an augmented reality experience made possible through Comcast's partnership with August Wilson African American Cultural Center (AWAACC).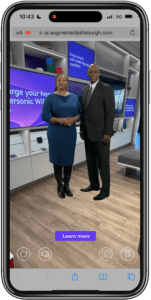 After scanning a QR code that appears on printed and digital posters throughout each store, visitors will see holographic versions of Mark Hutchinson, Vice President of Network Engineering for Comcast's Keystone Region and AWAACC Board Member, and Janis Burley Wilson, AWAACC CEO/President, inviting the viewer to engage with the Center and its programs.
"With the generous support of individuals and community focused organizations like Comcast, we provide rich programming for the whole family all year long," said Burley Wilson. "From the Pittsburgh International Jazz Festival to traveling art exhibitions from around the world, there's something for everyone at the Center."
In honor of Black History Month, the augmented reality experience, part of Augmented Pittsburgh, a first-of-its-kind digital storytelling platform started by Joe Zeff Design to help people more fully experience Pittsburgh, will launch on February 1 and be available through June at Xfinity Stores in Beaver Falls, Bridgeville, Fox Chapel, Greensburg, Indiana, Irwin, Monroeville, North Fayette, Pittsburgh, Pleasant Hills, Ross Township, Upper St. Clair, Washington and West Homestead or by visiting augmentedpittsburgh.com/comcast on a smartphone. Visitors to Comcast's interactive Xfinity Stores can also experience the complete line of Xfinity products and services and engage with a local, dedicated team of highly trained and knowledgeable sales consultants
"We're thrilled to welcome people to our Xfinity Stores and introduce them to the AWAACC's great programming through this augmented reality experience," said Hutchinson. "We hope the experience invites users to join us in the art galleries or theater to celebrate the African American journey, and its unique and extraordinary role in the creation of popular culture in America."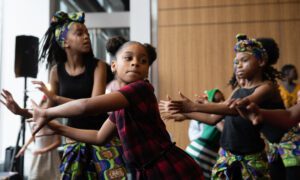 Comcast's partnership with AWAACC also includes sharing information at Center events about the federal government's Affordable Connectivity Program (ACP), which provides eligible low-income households with a credit of up to $30 per month ($75 per month on Tribal lands) toward their Internet and/or mobile service. With ACP, eligible Comcast customers can get home Internet through Comcast's Internet Essentials or Internet Essentials Plus at no cost once the federal credit is applied. Internet Essentials customers can also add a line of unlimited 5G cellular data ($45) through Xfinity Mobile for as little as $24.95/month after the ACP benefit is applied. Eligible customers can also visit Xfinity Stores to learn about and receive assistance enrolling in ACP and Internet Essentials.
These initiatives are part of Project UP, Comcast's 10-year, $1 billion commitment to advance digital equity through programs and community partnerships that connect people to the Internet, advance economic mobility, and open doors for the next generation of innovators, entrepreneurs, storytellers and creators.
Find more information on local Xfinity Stores, including directions and store hours, here.