Comcast today announced it is expanding its next-generation network, the Xfinity 10G Network, to more than 7,200 homes and businesses in Allegheny and Blair Townships, Duncansville and Hollidaysburg in Blair County. Residents in these areas will have access to Comcast's full suite of services, including Xfinity residential broadband speeds up to 1.2 gigabits per second and Comcast Business speeds up to 100 Gbps, when the project completes later this year.
"As a Supervisor of Blair Township, I am excited to welcome Comcast to our community," said Paul Amigh. "As a resident, I am thrilled to have options when selecting my cable and Internet provider. When consumers have choices, everybody wins."
Said David E. Burchfield, Jr., chairman of Allegheny Township, "It is an exciting time for Allegheny Township. Anytime additional quality services are added to the area, it creates a better way of life for our community. We welcome Comcast to the area."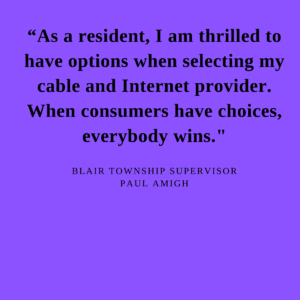 Added Duncansville Mayor Eric Fritz, "I want to thank Comcast for its investment in Duncansville, giving our residents more choice for video and Internet services."
"We are proud to expand our investment in Blair County," said Ray Roundtree, Senior Vice President of Comcast's Keystone Region. "Bringing high-speed and reliable Internet access to Blair and Allegheny Townships, Hollidaysburg and Duncansville will help ensure that more residents and businesses have the important broadband connections they need for their educational, professional and personal lives."
Powered by the Xfinity 10G Network
Comcast's next-generation network and Internet experience are powering homes today and into the future:
Ultimate Capacity: Xfinity customers connect nearly 1 billion devices across the company's network annually. The Xfinity 10G Network with the next-generation Xfinity gateways deliver the most advanced WiFi technology carrying three times more bandwidth to power streaming, gaming, videoconferencing, and more, simultaneously.
Fastest Internet: More than a third of Xfinity Internet customers subscribe to gigabit speed products, and Ookla rated Xfinity the fastest Internet provider at the end of 2022*. Symmetrical gig speeds to the first homes are planned for later this year.
Unprecedented Coverage: The latest Xfinity Gateway provides a more reliable connection throughout the home. Customers can get wall-to-wall WiFi coverage with a powerful xFi Pod that extends coverage to hard-to-reach areas, with plans for an offering of increased support for in-home WiFi through a "boost guarantee" later this year.
Most Reliable Connection: Comcast is scaling the nation's largest and most reliable network – the Xfinity 10G Network – that passes 60 million homes and businesses and counting. The company plans to launch a new device that is "storm-ready" with cellular and battery backup to help keep customers connected even when the power goes out.
Ultra-Low Latency: The Xfinity 10G Network and the latest xFi Gateway are a powerful combination that deliver ultra-low latency for those moments when response times matter most like video games, a fast-growing category with Xfinity households averaging more than one gaming console per home.
For local businesses, Comcast Business offers a suite of connectivity, communications, networking, cybersecurity, wireless and managed solutions to help organizations of different sizes prepare for what's next. Powered by the nation's largest Gig-speed broadband network, and backed by 24/7 customer support, Comcast Business is the nation's largest cable provider to small and mid-size businesses and one of the leading service providers to the Enterprise market. Comcast Business has been consistently recognized by industry analysts and associations as a leader and innovator, and one of the fastest growing providers of Ethernet services.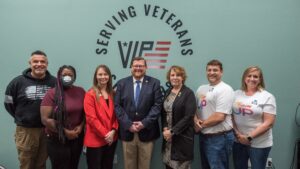 Comcast also is proud to participate in the federal government's Affordable Connectivity Program (ACP), which provides eligible low-income households with a credit of up to $30 per month ($75 per month on Tribal lands) toward their Internet and/or mobile service. Thanks to ACP, eligible Comcast customers can get home Internet through Comcast's Internet Essentials or Internet Essentials Plus at no cost once the federal credit is applied. Internet Essentials customers can also add a line of unlimited 5G cellular data ($45) through Xfinity Mobile for as little as $24.95/month after the ACP benefit is applied.
Over the last few years, Comcast invested $2.4 billion in the Commonwealth of Pennsylvania to improve and expand its network and continue delivering reliable, secure, and fast connectivity to its customers. Comcast's expansion in Schuylkill County is the company's latest investment in central and eastern Pennsylvania. In Luzerne County, the company is continuing work on its network expansion in the city of Wilkes-Barre, and has completed expansions in Kingston, Pringle, Larksville and Courtdale. Comcast also recently completed network expansions to parts of Lancaster, Columbia, Northumberland and Montour counties as well as in Eagles Mere and Laporte in Sullivan County, where it is also currently working on an additional expansion south of those locations. Comcast is also expanding in Honey Brook Borough, Elverson, Amity, Exeter and St. Lawrence in Berks County.
Comcast is deeply committed to advancing digital equity in the communities it serves. The company recently provided a $15,000 grant to Veterans Leadership Program to provide operational support for its efforts to reach vulnerable veterans they serve in the Veterans Administration's Altoona Medical Catchment Area with a rural computer bank that enables coordinators to better serve areas where veterans have the greatest need. This grant was part of Project UP, Comcast's comprehensive, 10-year, $1 billion commitment to help build a future of unlimited possibilities and the continuation of the company's long history of giving back to communities where it provides service and where its employees live and work.