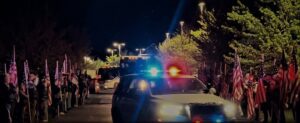 During Military Appreciation Month, Comcast employees volunteered to assist Honor Flight Pittsburgh with its opening and closing ceremonies for Pittsburgh-area military veterans who traveled from Cranberry to Washington, D.C. to visit memorials honoring their service. Memorial sites included the WWII Memorial, Korean Memorial, Vietnam Memorial, Disabled American Veteran for Life Memorial, U.S. Marine Corp War Memorial, U.S. Air Force Memorial and Arlington National Cemetery, including the Changing of the Guard at the Tomb of the Unknown and other sites.
The employees were part of Comcast's Veterans Network (VetNet), one of the company's employee resource groups. During the ceremonies, Comcast volunteers directed traffic, greeted veterans and loaded the motor coach with blankets, pillows, water, wheelchairs and surprise "mail call" letters for them to read during the drive to D.C.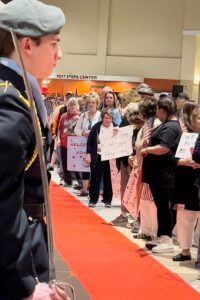 "This free, once-in-a-lifetime tour is a 'thank you' to veterans whose service spans decades," said VetNet member Susan Z. "VetNet is proud to have had the opportunity to help make their day special."
When the buses returned to Cranberry from D.C. at the end of the day, digital signs displayed along the highway read "Welcome Home, Heroes" and "Welcome Home, Vets." Fire engines escorted the motor coaches back to Cranberry, where volunteers and an honor guard greeted the returning veterans.
Comcast's commitment to military engagement is deeply rooted in our culture, going back decades to our founder, U.S. Navy veteran Ralph Roberts. We believe in connecting with the military community by creating an inclusive workplace for military teammates and special experiences for military customers and communities. Read more about how we empower military communities here.