Last month, Comcast's Alka Patel was named one of 13 2023 Women of Distinction by Girl Scouts Western Pennsylvania. These awards honor inspirational women and two Gold Award Girl Scouts while celebrating the mission of the Girl Scout Movement to build girls of courage, confidence and character, who make the world a better place.
This award is particularly special to Patel, as one of her is daughters is currently a Girl Scout.
"To all the girls and young women out there who are involved in Girls Scouts, I am looking forward to celebrating the day when you are up on this stage," said Patel. "While you might not realize it today, you are at the beginning of an amazing journey, preparing to step into your own power, and becoming the role models for the generation that is yet to come."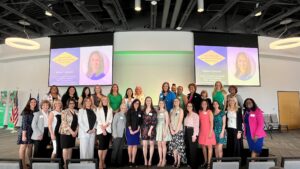 Alka Patel, JD, MBA, currently serves as Vice President of Government & External Affairs for Comcast's Keystone Region. She is focused on advancing digital equity throughout Pennsylvania, West Virginia, Ohio and Maryland through partnerships with nonprofits and city and business leaders by providing tools and resources low-income families need to participate in an increasingly digital world.
Her team has also helped install more than 100 Lift Zones throughout the region, providing free, high-speed WiFi service to help community centers promote digital learning. Lift Zones are part of Project UP, Comcast's comprehensive, 10-year, $1 billion commitment to help build a future of unlimited possibilities and the continuation of the company's long history of giving back to communities where it provides service and its employees live and work.
Patel has previously been recognized for her social conscience and professional contributions and serves on several non-profit boards including the Whittaker Center – a Lift Zone – the Responsible AI Institute, and the Greater Pittsburgh Chamber of Commerce. She has held many leadership roles including being the first Asian to chair the Women in Law Division for the Allegheny County Bar Association and being elected to the school board in her community. She has also previously served on the Pennsylvania Governor's Advisory Commission on Asian Pacific American Affairs and was recently named one of 50 top National Security & Foreign Affairs Leaders of 2022 by the Center for Strategic & International Studies/Diversity in National Security Network. Patel is frequently a speaker on topics of advancing gender and racial diversity, responsible technology, workforce development and digital transformation.
Congratulations, Alka!