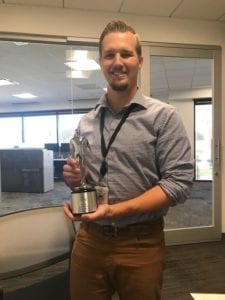 How has Comcast helped keep customers and employees safe in 2020? With the help of Director of Environmental Health and Safety Brandon Radicic and his team. While the team started the year concentrating on the Keystone Region's employee wellness and workplace safety programs, they quickly focused their efforts on developing and implementing new protocols for Comcast's technicians and retail staff who continue to work in the field to safely provide customers with service that keeps them connected to school and work.
Radicic started his Comcast career five years ago as a Workplace Safety Specialist in Comcast's Keystone Region and was promoted to Manager of Environmental, Health, and Safety for Comcast's West Division, headquartered in Centennial, Colorado. After two years in Colorado, he was promoted to Director of Environmental Health and Safety for the Keystone Region, which brought Radicic and his family back to Pittsburgh.
While his previous work as an athletic trainer and a health and safety specialist for a transportation company helped prepare him for a career at Comcast, his work coordinating injury prevention and wellness services for an underground coal company provided useful experience for this year's pandemic: preparing for the unknown and adjusting to difficult circumstances. In March, his team worked around the clock to deliver personal protective equipment to technicians and retail staff across Pennsylvania, Ohio, West Virginia and Maryland, helped facilitate a safe retail experience for employees and guests, and trained employees on new safety protocols – all while helping thousands of Comcast employees across Pennsylvania safely retrieve equipment from offices as they transitioned to working from home.
Recently, his team was recognized for a regional Comcast award for their innovation and quick response to 2020's new work practices that affected every employee in the region. The Environmental Health and Safety Team's work has helped employees stay safe while continuing to provide Xfinity Internet, video, voice, home security and mobile services to customers. "I truly believe we are changing lives with the services we offer our customers," said Radicic. "It's great to be a part of something that is important to so many people."
Learn how Radicic's team helps manage energy use, reduce waste and reduce vehicle emissions.