As the pandemic impacted women and their plans for future jobs and opportunities, it also represented an opportunity for businesses to look for ways to invest in and build more flexible workplaces and nurturing cultures. At Comcast, we recognized early on that the needs of our workforce were changing, so we, too, adapted to ensure we provided flexible work options to better support our employees.
We recently kicked off this series of employee profiles, which spotlights some of the incredible women who make up Comcast Business' workforce. We featured Corrine Paul and Nicole Norkin, both of whom are mothers that have risen above the challenges of the past year-plus and adapted to new circumstances.
This month we are highlighting two women from Pittsburgh whose stories and examples of perseverance demonstrate the power of working together and remaining supportive for families, teams and communities.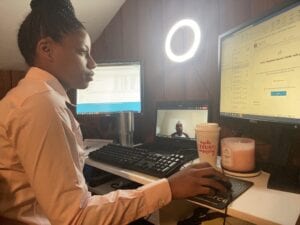 Ariel Brown, Product Sales Support & Analysis Specialist, Pittsburgh
Ariel has been with Comcast for over four years and serves as a Product Sales Support and Analysis Specialist, which includes supporting business sales and operations.  She is grateful for the flexibility she's had during the past months and says, "Comcast has been nothing short of amazing in terms of additional benefits and support."
Ariel's 10-year-old daughter's school went fully remote at the start of the pandemic, requiring a lot of tech support for her online learning classes. Ariel said, "The pandemic made me quickly realize that a lot of businesses are going to be 100% home-based. It's a shift in society."
While it took Ariel some time to adjust to a shift in work-life balance, she found a routine that worked best for her lifestyle. Without a commute, she was able to spend more time in the morning for herself and makes sure to step away from her computer throughout the day to take walks for her physical and mental health. After initially feeling overwhelmed by remote learning and working from home, Ariel was able to take advantage of Comcast's COVID-related benefits for therapy sessions and use personal time off for medical appointments and virtual school meetings.
"I'm very thankful for all of the support Comcast has provided its employees as we've learned how to navigate the new norm and balance work, school and life, all from our homes."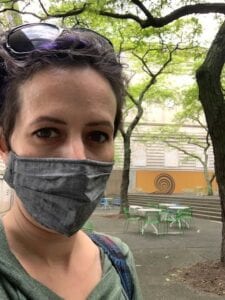 Angela Mullenax, Supervisor, Tech Product Sales Support, Pittsburgh
Angela, who works on the technical product sales team at Comcast, which includes supporting a range of offerings including Comcast Business VoiceEdge, WiFi Pro and the upcoming Comcast Business Mobile, appreciated not having to commute to an office and spending additional time with her three children who are 15, 13 and 10. She says of her new lifestyle, "I work earlier and later, but now I take an hour-long lunch or walk, which helps me recharge."
When many were shifted to work-from-home in 2020, Comcast provided Angela with computer equipment and additional benefits, including additional days to care for family members and time off for vaccinations. This provided Angela with resources to accommodate her family, especially with her children doing asynchronous learning from home.
It is certainly more challenging to connect with people remotely, Angela admits, because of the need to schedule time with team members and the inability to read their body language. To stay connected, she has utilized Microsoft Teams for happy hours, virtual lunches and brainstorming. "We've all shifted how we operate as a workforce and learned how to connect virtually when we can't be together in an office."
Ariel and Angela are two more exceptional examples of the employees at the heart of Comcast Business. Stay tuned for more profiles over the next several weeks featuring the women who make up our workforce at: https://westernpa.comcast.com.