Recently, employee volunteers from Comcast welcomed 11 students to our regional headquarters in North Fayette for a STEM career exploration day to help them envision working in the technology industry.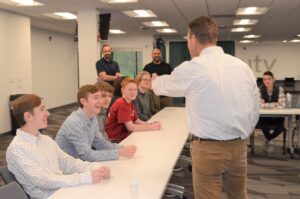 Team members shared their advice and experience, including interview tips, with students, "Your passion and drive will create opportunities for you to succeed," Aaron Mimran, Vice President of Comcast Business for Comcast's Keystone Region advised the visitors to understand how to gain common ground with an interviewer.
The students also toured Comcast's new Product Experience Center, learned about Xfinity and Comcast Business products and services and how our engineers drive a great customer experience with the Xfinity 10G Network.
The employee volunteers were part of Comcast's Young Professional Network (YPN), one of the company's employee resource groups.
"Events like today give our employees a chance to give back to the community we work in," said Paul S., a community account representative and YPN chapter co-lead. "We're excited to be part of the journey of these Moon Area students as they start their careers and begin to build meaningful connections the way we have at Comcast."