Comcast technician Paul has been installing equipment for Xfinity customers in central Pennsylvania for more than 14 years, traveling across the area to help keep residents connected to what matters most.
"I like the fact that I'm not in one place all the time. I'm always going to different places, seeing different things," he says, when asked about his favorite parts of the job. "I like meeting people out there. I love being outside and getting a chance to figure things out."
Paul is especially happy that his daily work travels are now also a homecoming. As an Altoona native who attended Bishop Guilfoyle Catholic High School and lives just north of the city, he is one of several technicians currently installing equipment for new customers in Hollidaysburg, Duncansville, Blair Township and Allegheny Township as Comcast has expanded its full suite of products to homes and businesses in those areas of Blair County.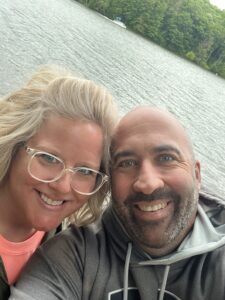 Home in Altoona
"The Altoona area is home to me. I know the neighborhoods. I have friends here, I have family here and I don't see myself going anywhere else," Paul says. "I've had so many friends on social media saying, 'When are you guys coming here?' Now I can tell them we're in Blair County."
Comcast's network investment is expanding the Xfinity 10G Network to more than 7,200 new homes and businesses in the area. Paul did his first install in Blair Township during the first week of March and he and his teammates have since done many more, with Comcast's network becoming available to more and more addresses. Paul simply said: "People are excited that we're coming."
How Comcast Keeps People Connected
As a technician, Paul helps customers find which Xfinity products are right for them, including Xfinity Internet, Xfinity Mobile and Xfinity X1 TV and Streaming. And for those customers who qualify,  Comcast's Internet Essentials program and the federal government's Affordable Connectivity Program (ACP) can help make it even easier and more affordable to get connected.
In 2011, Comcast created Internet Essentials to bring affordable, high-speed Internet to low-income families – and in over 10 years, we've connected more than 10 million Americans. In 2021, we launched Internet Essentials Plus, a new tier of service that offers twice the download speed of traditional Internet Essentials, plus a cable modem and access to millions of WiFi hotspots.
In addition to our own broadband adoption program, Comcast participates in ACP, which provides low-income households with a credit of up to $30 per month toward their Internet and/or mobile service. ACP can cover the full cost of both Internet Essentials and Internet Essentials Plus for eligible families, and we're encouraging participation in the program to benefit even more eligible families in our footprint.
Both ACP and Internet Essentials are part of Project UP, Comcast's comprehensive initiative to advance digital equity and help build a future of unlimited possibilities. Another component of Project UP is Comcast's partnerships with local non-profits like Veterans Leadership Program in Altoona, who we recently awarded a $15,000 grant to help serve vulnerable veterans with a rural computer bank.
Paul is proud of the work Comcast does in the community and enjoys working for a company committed to these types of local partnerships.
And while Paul has been busy with customers installations these days, he's also thinking about how to use his down time this spring and summer. While the fall usually finds him "just hanging out with friends, or hanging out on Saturday watching college football," he's a big fan of spending time at Prince Gallitzin State Park in nearby Patton.
"I just bought a new camper and I'm anxious to take it there," he said.