Alka Patel, Vice President of Government and External Affairs for Comcast's Keystone Region, recently attended a forum at Schell Games in Pittsburgh where Lieutenant Governor Austin Davis and Labor & Industry Acting Secretary Nancy Walker highlighted how apprenticeship programs can help Pennsylvania employers find and hire highly skilled workers and shared proposed investments in Governor Josh Shapiro's budget to expand apprenticeship opportunities in the Commonwealth.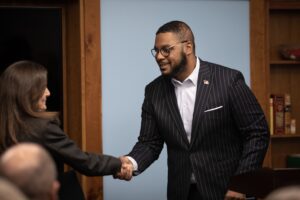 "If we're going to address Pennsylvania's workforce development issues, we need to create pipelines of talent in key industries like tech, and we need to empower young people to pursue their dreams – no matter what they may be," said Lt. Gov. Davis. "That's why the Shapiro-Davis budget invests more into apprenticeship programs and brings career and technical training back into the classroom."
Audrey Russo, President and CEO of the Pittsburgh Tech Council, shared how their nonprofit educational arm, Fortyx80's Apprenti PGH program, has trained workers for cybersecurity positions that are critical to Pittsburgh technology companies. Last year, Comcast provided a $10,000 grant to support Apprenti PGH's focus on outreach to veterans, an underserved population eligible for the program.
This effort is part of Project UP, Comcast's 10-year, $1 billion commitment to advance digital equity through programs and community partnerships that connect people to the Internet, advance economic mobility, and open doors for the next generation of innovators, entrepreneurs, storytellers and creators.
Learn more about recent Apprenti graduates and how the power of the program's local apprenticeships here.