Recently, the Pittsburgh Tech Council announced that its nonprofit educational arm, Fortyx80, will expand its Apprenti PGH program to include cybersecurity training in 2023, in addition to its existing software development program. Carol Eggert, Comcast's Vice President of Military and Veterans Affairs, joined the Council to announce a $10,000 grant to support Apprenti PGH's focus on outreach to veterans, an underserved population eligible for the program.
"When our long-standing partner, the Pittsburgh Tech Council, approached us about investing in a program that focuses Per Scholas' expertise on veterans, we knew it was an important opportunity and thank the Tech Council for bringing it to us," said Eggert. "We look forward to following the impact program participants have on Pittsburgh's technology industry."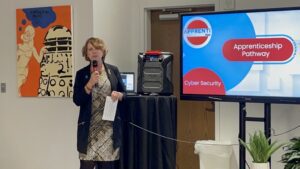 This grant will support Apprenti PGH's work recruiting veterans to participate in the new program, with help from local nonprofit partners like the Urban League of Greater Pittsburgh, PA, CareerLink Pittsburgh, Veterans Leadership Program and Pittsburgh Hires Veterans. Participants in the 12-15 week program are paid during their training, working as apprentices for businesses who provide them full-time jobs at graduation.
Per Scholas will be the training provider for the cybersecurity program and has a goal of training hundreds of veterans across the country in the next three years to help fill unfilled cybersecurity jobs in a variety of industries. Comcast NBCUniversal started partnering with Per Scholas last year to help individuals build the skills they need for successful careers in technology. These digital equity investments have enabled Per Scholas to scale its tuition-free remote learning operations and train 1,000 students throughout the country to date.
Per Scholas is not only a strategic partner for Comcast nationally, but also locally. With support from Comcast, Per Scholas Pittsburgh will train more than 150 unemployed and underemployed learners in 2023. Pittsburgh is one of a handful of cities where Per Scholas is focusing recruitment on veterans and where Comcast's Regional Vice President for Technical Operations, Virgil King, locally chairs the Per Scholas Advisory Board.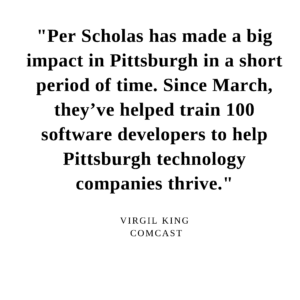 "Per Scholas has made a big impact in Pittsburgh in a short period of time," said King. "Since March, they've helped train 100 software developers to help Pittsburgh technology companies thrive."
The training that Per Scholas provides is free to participants, who are recruited from communities and groups that have been left behind as the region shifted from heavy industry to a knowledge economy. Apprenti PGH's new program developed by identifying the intersection between cybersecurity and military veterans, a pool of skilled individuals who have experience working with highly sophisticated technology.
This announcement was made on the heels of Comcast's $75,000 grant and donation of 100 laptops to Veterans Leadership Program in Pittsburgh. In addition to providing laptops directly to veterans they serve in western Pennsylvania, the organization will use the resources to create a mobile computer bank to assist service coordinators who work with veterans living in shelters, uninhabitable conditions or are street homeless, as well as a rural computer bank to enable coordinators to reach areas where veterans have the greatest need.
These efforts are part of Project UP, Comcast's 10-year, $1 billion commitment to advance digital equity through programs and community partnerships that connect people to the Internet, advance economic mobility, and open doors for the next generation of innovators, entrepreneurs, storytellers and creators.