Over the past few months, we have spotlighted some of the incredible women of Comcast Business through our Women in the Workforce series. We featured Corrine Paul and Nicole Norkin, both of whom are mothers who have risen above the challenges of the past year-plus and adapted to new circumstances. We also profiled Katie Lerew and Katie Gallagher, as well as Ariel Brown and Angela Mullenax, who have balanced their careers, teams and families with support from Comcast Business.
This month brings two exceptional women from Ohio and Pittsburgh, whose stories demonstrate the power of resilience and the importance of flexibility, especially as working remotely continues for many Comcast employees and customers.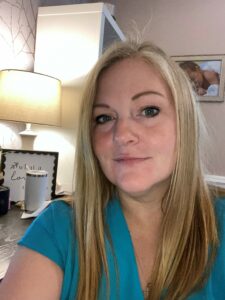 Julie Colberg, Enterprise Sales Account Executive, Pittsburgh
Julie has enjoyed the extra time she has gained with her family as she worked from home. With three children, ages five, nine and 11, she appreciates the additional support she can provide to them while she is with them in person. When asked about her new work routine of the preceding months, she says, "I don't know what I would have done if I couldn't have worked from home. And it's been productive – I work early in the morning occasionally, even before the kids get up."
In March 2020, Comcast provided Julie with a home office and applications like Microsoft Teams and Seamless AI which would replace face-to-face meetings and in-person customer prospecting. This gave her the resources necessary to not only achieve daily and weekly tasks, but build relationships with key customers remotely. A proud moment over the past year included signing a significant new account to help expand the customer's network with Comcast in the Greater Pittsburgh area
While adapting to working from home was relatively seamless, she does miss the daily interactions she used to have with coworkers. However, she has valued Comcast's employee resource groups – including the Black Employee Network (BEN) which she is an active member of – that have helped to keep everyone connected and able to network cross-functionally. Julie also serves on her region's employee engagement council, a working group selected to gather and respond to employee feedback.
Among customers, Julie has noticed more of them using and appreciating the flexibility Business VoiceEdge offers. She adds, "Business VoiceEdge is a cloud-based voice offering that gives businesses the ability to pivot easily between working from home and in-person work. It also allows multiple employees to take calls for one location and calls can be easily forwarded to a cell phone. As some businesses start to go back to the office, or are doing so at a reduced capacity, this flexibility is really important."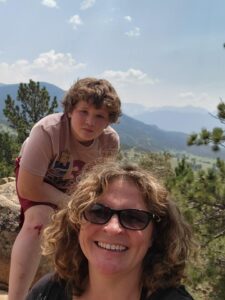 Angie Gilli, Senior Business Account Executive, Bellaire, Ohio
Angie has been with Comcast for over five years and currently serves as a Senior Business Account Executive, which includes providing business solutions to fit the needs of new and existing companies. Angie is grateful for the flexibility that has been extended to her, saying, "Comcast in general has been great, even before the pandemic."
Angie's 12-year-old son, the youngest of six children, initially struggled with learning from home when his school made the transition to virtual learning. During that period, she was able to use Comcast's COVID-PTO to take time and help to get him on track with his school work. She also has taken advantage of Comcast's other COVID-related benefits including home office supplies.
Angie has found that customers are also opting for solutions that allow for more flexibility. "As customers have moved employees out of offices, many are using Business VoiceEdge over residential Internet," she said. "I find that they like the flexibility it provides. Customers can answer their calls from anywhere, on any device, and seamlessly transfer calls or redirect them to other devices or offices."
Angie adds, "Tools like Microsoft Teams help me stay connected with other departments and sales teams. It's been good for camaraderie. Fortunately, Comcast continues to be supportive of us, whatever comes next."
Julie and Angie are two more exceptional examples of the employees at the heart of Comcast Business. To read more profiles featuring the women who make up our workforce, visit: https://westernpa.comcast.com