Our employees make their homes in the communities we serve, and they make sure our customers have access to the best products, the most reliable network and an outstanding overall experience from Comcast – every day. PJ, a technician from Greensburg PA, hopes our products and services "wow" customers from the moment he installs them in their homes and businesses. 
PJ strives for that "wow" factor in his community service, too. Since the age of eight he has volunteered for Overly's Country Christmas, a nonprofit organization that runs a walk-around Christmas Village in Westmoreland County. The village features light displays, music, a model train exhibit, wagon rides and pictures with Santa, all run by volunteers like PJ.  "Overly's Country Christmas raises funds to support local charities," said PJ. "Over the years, I've worked in maintenance, the parking crew, a manger and last year actually became president of the organization," said PJ. "I met my wife volunteering there and we're proud of the work the organization continues to do. Last year we were able to donate $50,000 to nine different Greensburg-area charities."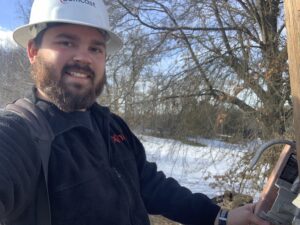 PJ's willingness to take on new challenges has also helped him grow in his career with Comcast, advancing to a senior-level technician in just five years. His day-to-day responsibilities include installing and maintaining phone, internet, cable, and home security out of the Hempfield office.  He's been recognized as the Keystone Region's "Tech of the Year" twice since 2019 because of his focus on customer satisfaction, product knowledge and education. In order to help fellow cable technicians accomplish their career goals, PJ has joined the board of the local chapter of the Society of Cable Telecommunications Engineers, a professional association for the advancement of technology, standards and workforce education for telecommunications workers. 
Recently, PJ completed a BS in Computer Science at the University of Phoenix, supported by Comcast's tuition reimbursement program. "The best part of working at Comcast is the opportunity to learn," said PJ. "Not only do our training programs help us learn different aspects of the business, but Comcast supports us in growing as individuals. That helps us each provide a better experience for our customers." 
Meet other local employees like Ryan and Lloyd, retail and tech leaders who make Comcast a great place to work. Learn more about careers at Comcast and view current job openings here.